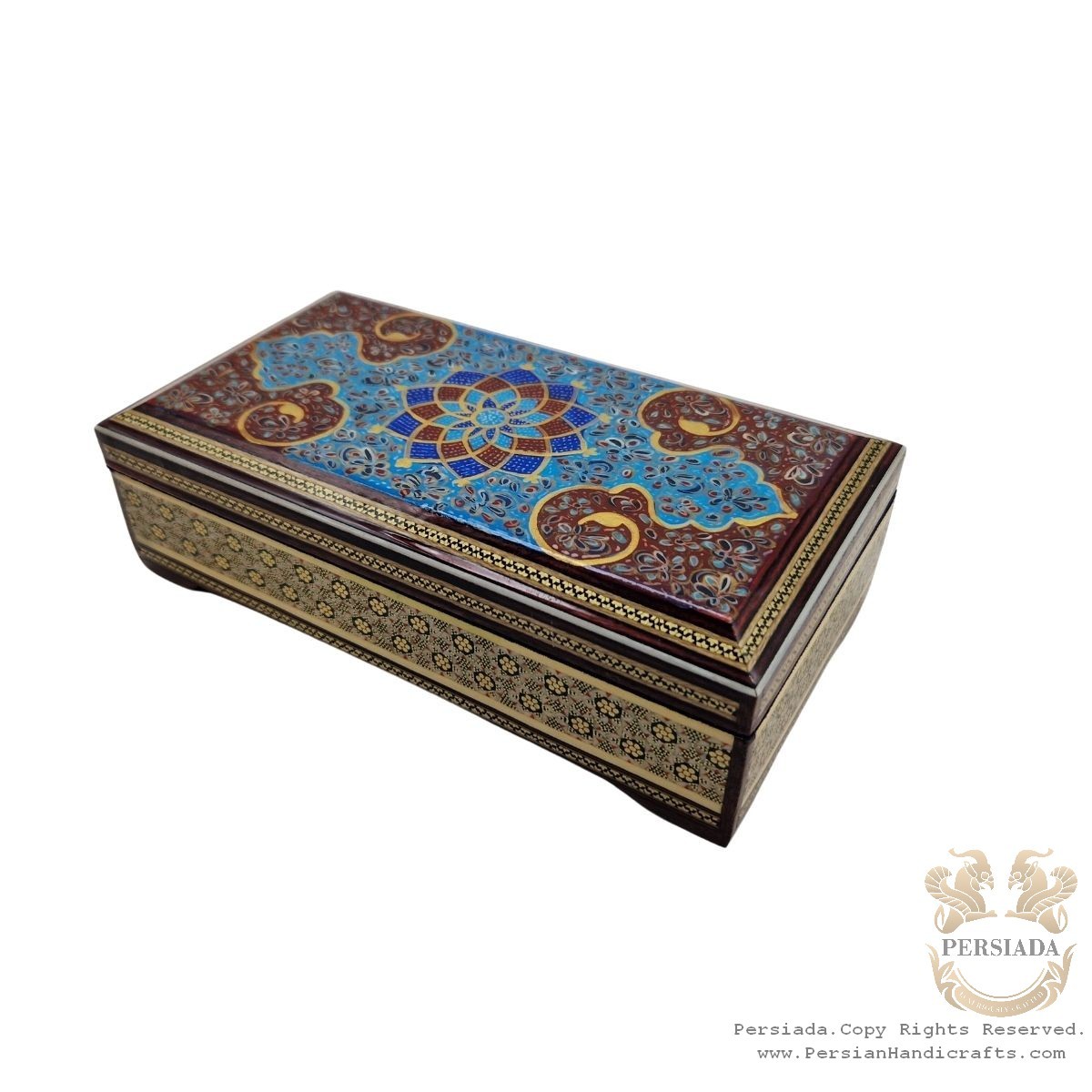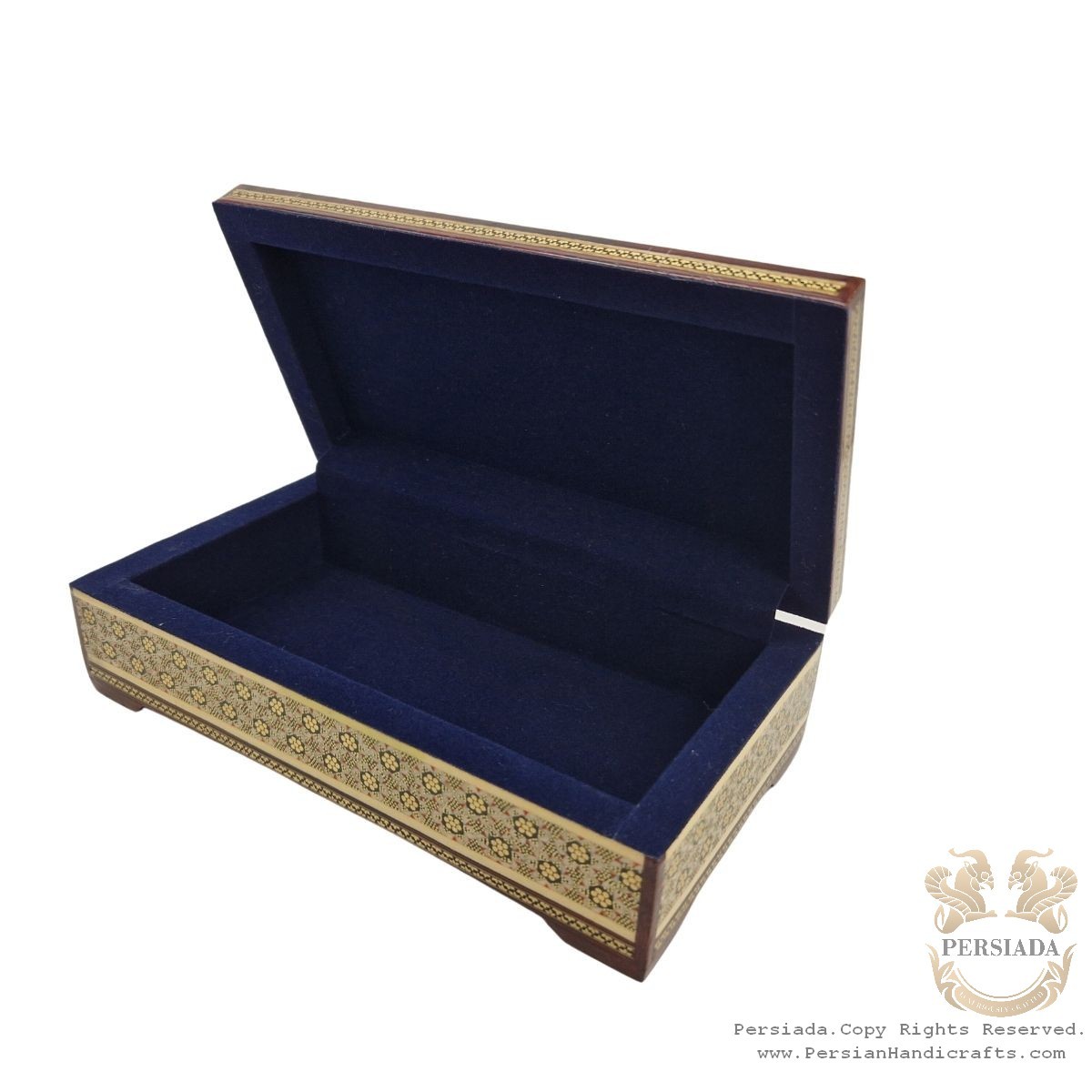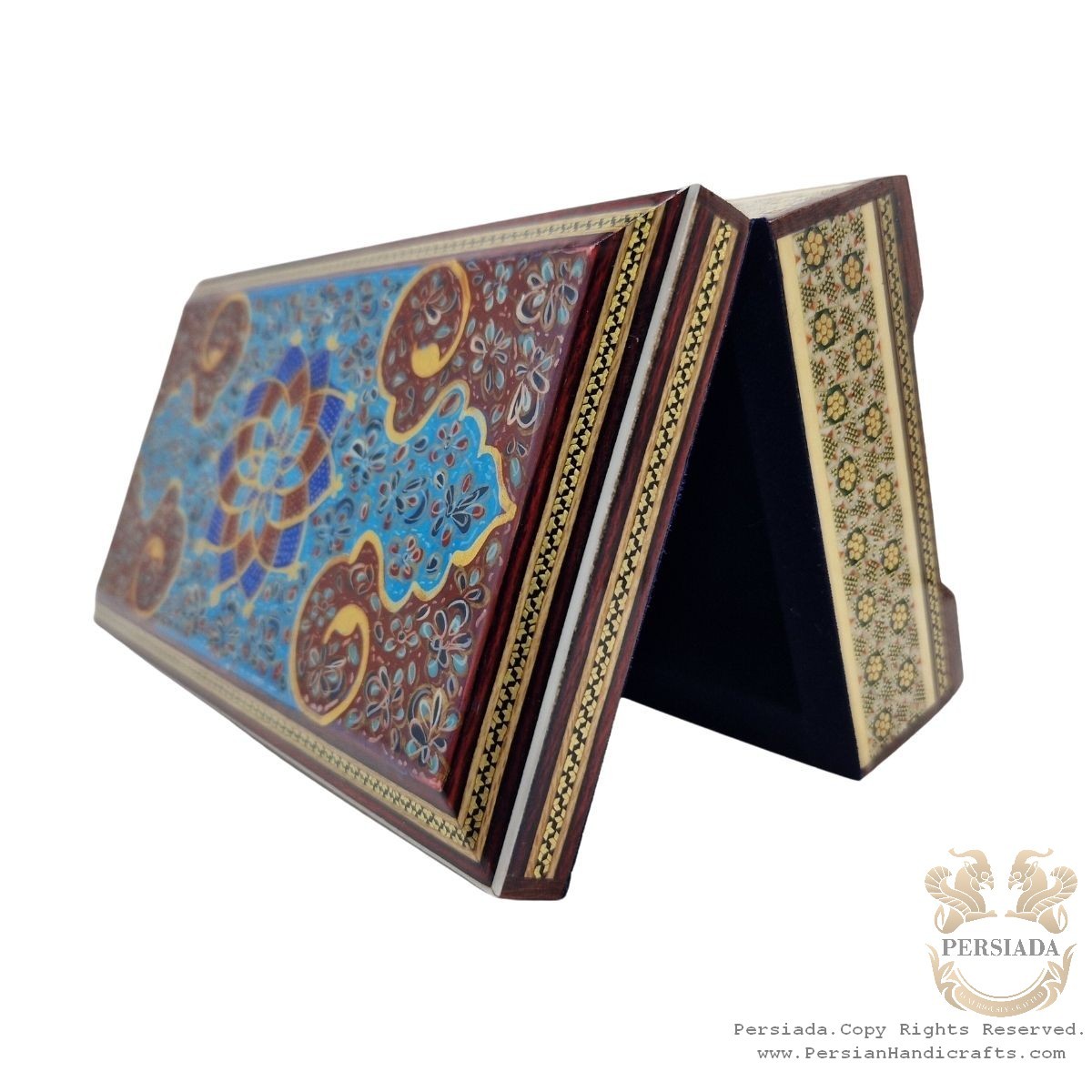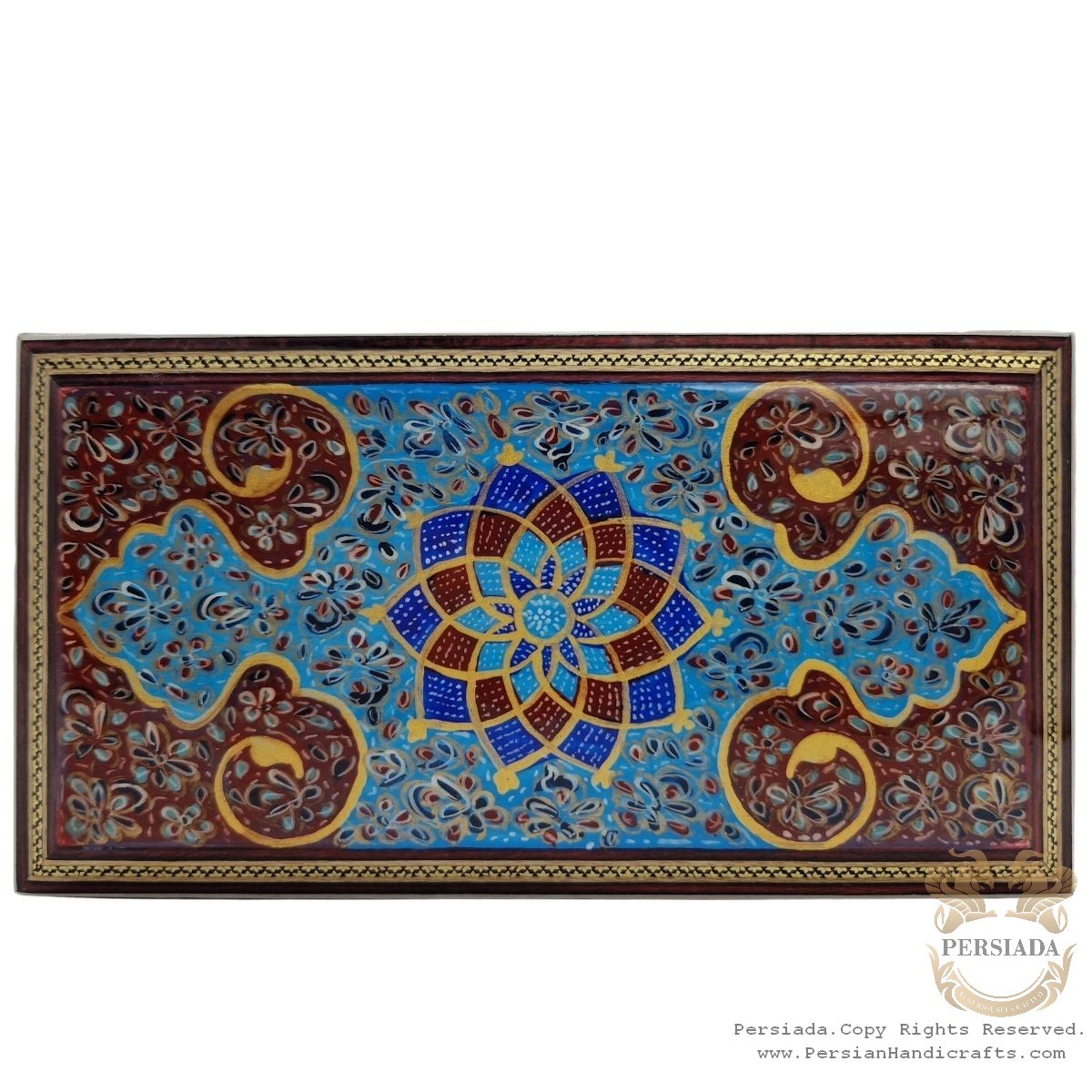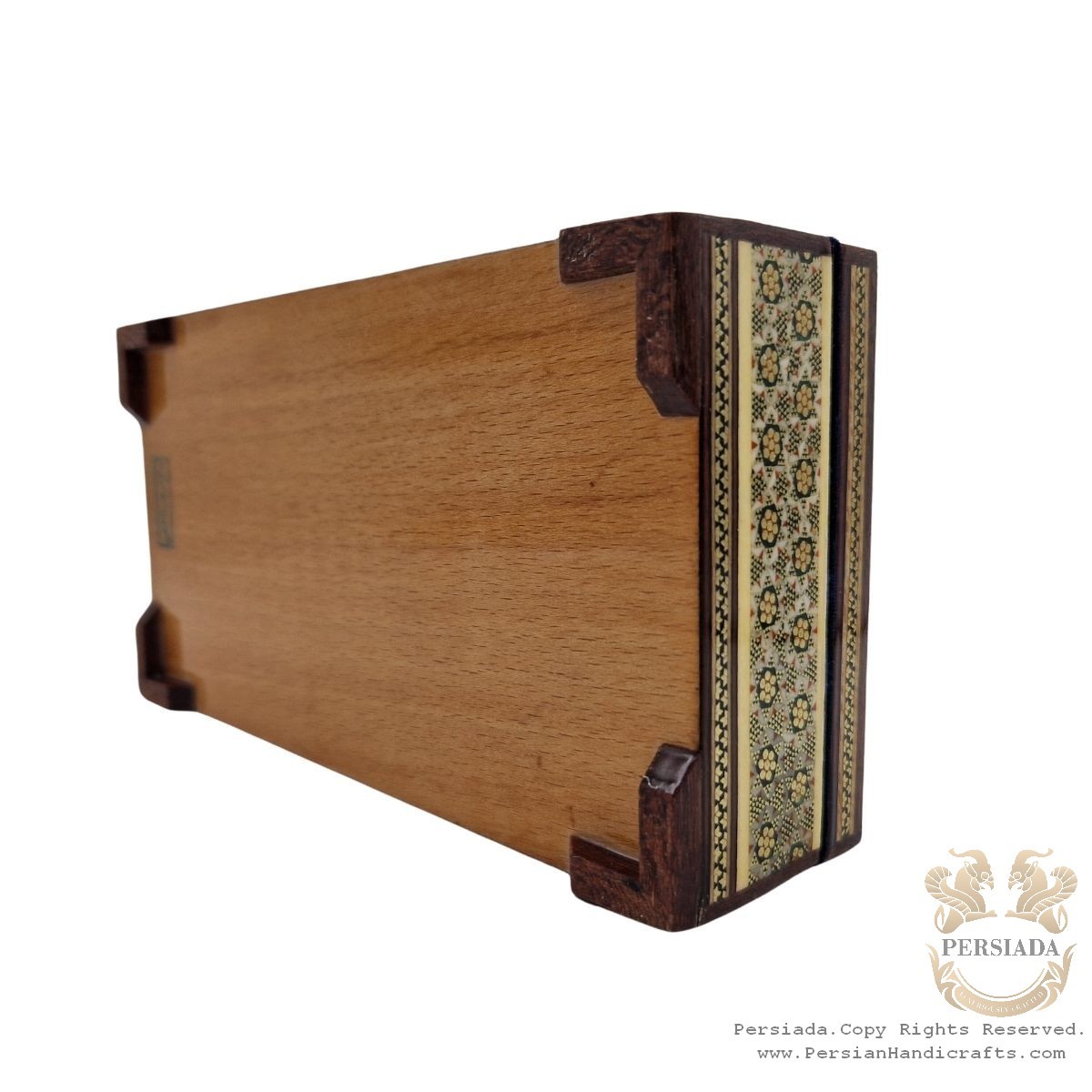 New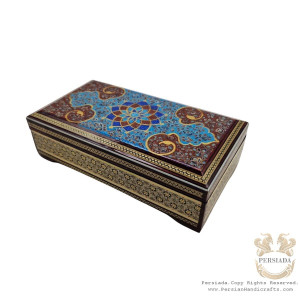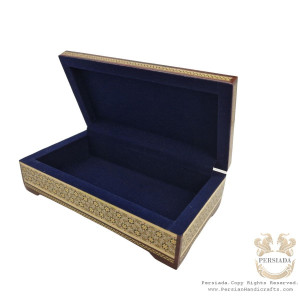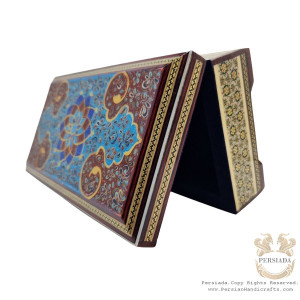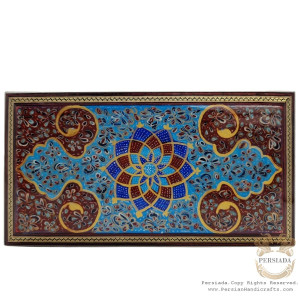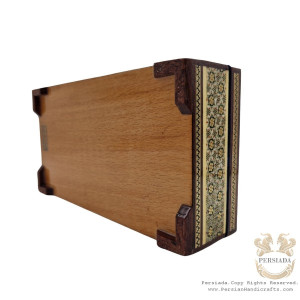 Wooden Storage Box | Khatam Marquetry w Miniature | HKH8012 | Persiada
Elevate your storage game with our beautifully crafted Small Wooden Storage Box, meticulously handmade with intricate Khatam Marquetry and featuring stunning Persian Miniature Paintings. The interior is lined with soft suede fabric, providing a safe and protective space for your cherished items. This compact and versatile piece is perfect for storing jewelry, small accessories, and other precious keepsakes. Order now and experience this stunning creation's perfect combination of exquisite craftsmanship and practical functionality.
➡️ What is Khatamkari the Persian Style Marquetry?

Khatamkari (Persian Marquetry) is the incrustation pattern, generally star-shaped, with thin sticks of beech or Ziziphus wood, brass for golden parts and camel bones for white parts.
The Sticks are assembled in triangular beams and glued to create a cylinder. The cross-section is now a six-branch star which is cut, compressed and dried between two wooden plates, before being sliced for the last time, in 1 mm wide sections.
These sections are then plated and glued on the surface to be decorated before the shiny finish is applied.
Crafts Details
Size
Outside: 20 cm X 10 cm X 6 cm Inside: 17.5 cm X 8 cm X 3 cm
Material
thin sticks of wood, copper (for golden parts), camel bones (white parts)
Usage
Storage Boxes, Jewelry Box, Decorative Crafts, Persian Gift
Originate
Handmade in Isfahan / Persia (Iran)
Approx Delivery Times for Economy Shipping:
United States & Canada: 10 to 14 Days
Europe: 2 to 5 Days
Asia & Australia: 15 to 20 Days
Approx Delivery Times for Express International Shipping:
Europe: 2 Business Days
The United States, Canada, Asia & Australia: Upto 5 Business days

Stock:

In Stock

Model:

HKH8012

Persiada
Share it with your Friends